Exams are always something that you end up worrying about to an obsessive degree. The thought of being placed on the spot and expected to demonstrate your knowledge in a particular subject can be daunting to even the most knowledgeable individuals. Technology exams, such as Microsoft certification, can arguably be the worst of all; the level of detailed technical knowledge that you are expected to know off the top of your head can seem almost impossible, particularly for those are heavily reliant on our friend of old, like me! The pace of technological advancement only complicates this further and, when you are working with solutions as fast-paced as Dynamics 365 for Enterprise (D365E), the pace is almost marathon like. New features are added regularly to the application and this invariably leads to new exam content and accreditations to match. The introduction of an MCSA and MCSE for D365E is, arguably, one of the more welcome of recent changes made, and gives those looking to showcase their knowledge a more enhanced way of doing so.
I have previously reviewed the new exams in more detail on the blog and, after having been through the process and successfully obtained my MCSA and MCSE, I can speak generally about the experience and hopefully guide those who are looking at sitting the exams in the near future. This week's post will provide some general guidance on how you can best prepare for the exams, an overview of the new badge sharing platform, Acclaim, and my general thoughts on the whole experience.
Disclaimer
Per the terms of the Exam NDA, this post will not make reference to any specific exam content; rather, it will discuss broadly what areas you should focus on to get that passing grade. Any discussion or question relating to exam content will be deleted from the comments section.
The journey to Accreditation may seem somewhat upside down
To achieve your MCSA, and eventually MCSE, Microsoft recommends that you follow a suggested route to attain your certification. Although you are free to pass the exams in any order you wish, it is perhaps strange that, if you follow the prescribed route, you will learn/be tested on how to customise, configure and manage Dynamics 365 before discovering what the application can offer natively. Many of the features available in D365E may very well speed along a deployment, and it is important to always remember the plethora of existing functionality available within the application and not accidentally over-customise when there is no need to.
Don't underestimate the need to revise…
As with any new exam, the Skills Measured list is updated to reflect features freshly introduced as part of the exams targeted release. If you have not yet had experience with how these work, then I would highly recommend working through the e-learning courses available on the Dynamics Learning Portal in the first instance (some of which, incidentally, are also available on Imagine Academy), targeting yourself towards a) new features and b) functionality that you have the least experience in. With regards to "What's New" with D365E, I would recommend brushing up on the following subjects as part of your revision:
There's a good chance, based on each exams specification, that questions on all the above topics could appear on multiple exams, so be sure to prepare yourself for this.
…but realise that hands-on experience is the best route towards passing an exam.
Simply watching the e-learning courses or reading about new functionality is never sufficient when revising. You should ideally have a D365E tenant available to you as part of your revision (trials can be set up in a pinch) and be working through features of the application as you are learning. The above e-learning courses include labs, which is an excellent starting point; from there, you should very much work through setting up features from scratch, navigating around the interface and understanding what various buttons/actions do. You may surprise yourself and discover something about the application that you previously overlooked; something which happens to me all the time!
Be sure to setup your Acclaim account after passing
One of the nifty new perks of passing an exam this year is the introduction of Acclaim, which aims to provide a simplified mechanism of collating together your various accreditations across multiple vendors in a fun way. Upon passing your first exam, you will be sent an email within 24 hours of passing to let you know your badge is waiting to be claimed: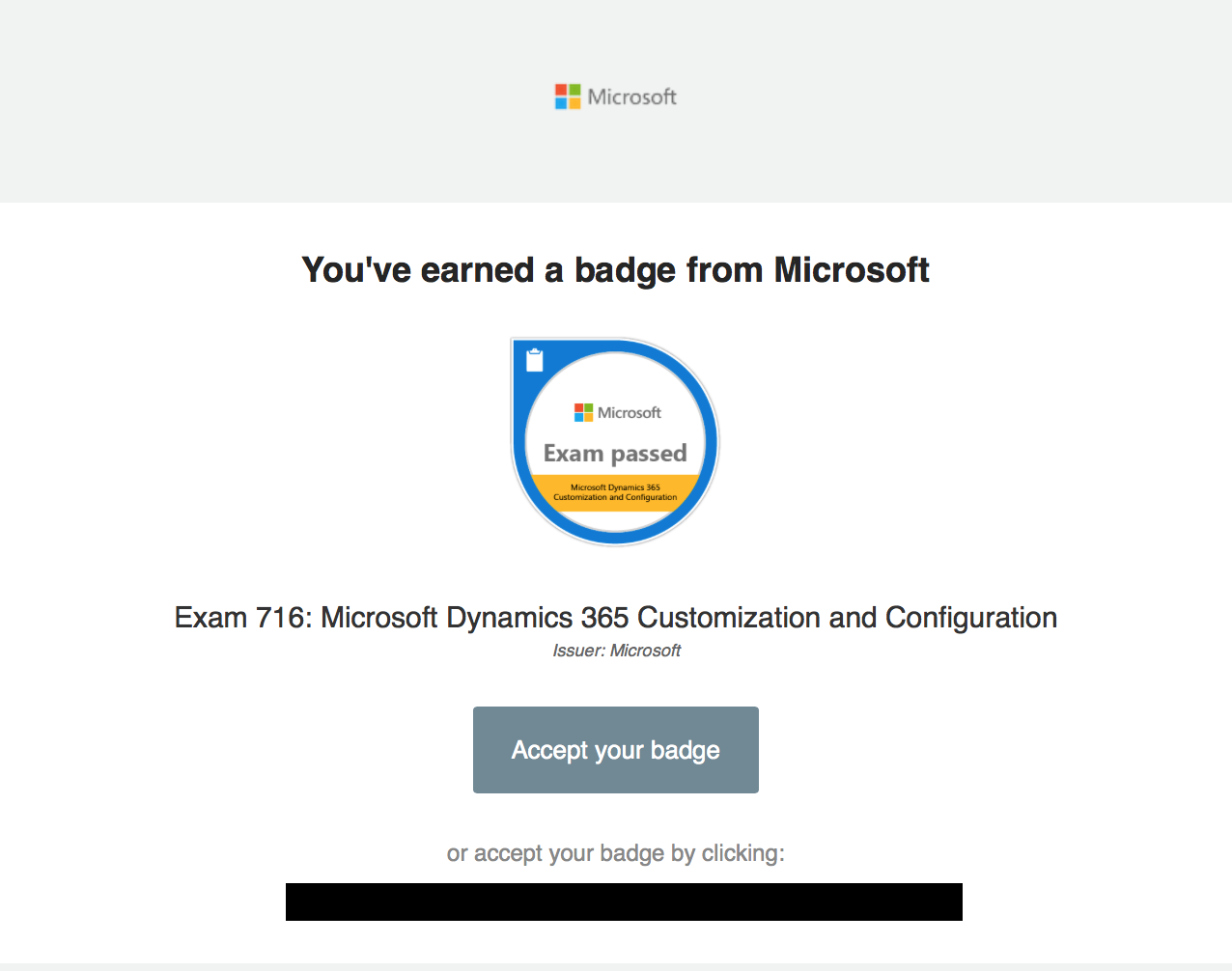 To accept the badge, you will need to setup an account with Acclaim. After this, all subsequent achievements will be saved to the same account, enabling you to build up your "Acclaim transcript" as you pass more exams. The social features of the application are varied and quite nice, meaning that you can quickly share the news of your exam pass with friends, colleagues and family members at the click of a button. Currently, LinkedIn, Twitter and Facebook are supported at the time of writing. Finally, you can download images of your badges and include them as part of job applications/C.V's, helping them stand out more visually.
If you are interested in finding out more about Acclaim, then you can check out my profile to get a feel for what it can offer you. Suffice it to say, having a straightforward means of sending potential customers/employers a website link to my Acclaim profile as opposed to an entire Microsoft transcript would undoubtedly simplify things. Now, if only you could get physical badges that you could stick on your bag… 🙂
Conclusions or Wot I Think
My own personal journey towards obtaining my first MCSA and MCSE has been challenging and rewarding in equal measure. It feels really good to know that D365E has a proper set of accreditations that individuals can aspire towards obtaining and which exemplify the position of the application alongside other, well-known Microsoft solutions. That is not to say that exams are a definitive means of judging your expertise with a particular product, and an exam fail may indicate a spur of the moment, misjudged answer or a lack of revision for a particular new feature. This post may put people off from trying for an exam, due to the effort involved, but it's important that you are not daunted in any way. I would readily encourage people who have a passion for D365E to put aside any concerns and not delay in working towards passing each of the exams. By doing so, you can proactively demonstrate your commitment towards D365E and the zeal that you have for it, giving those around you the confidence that you not just talk the talk, but can walk the walk as well.