The current talk around CRM at the moment is all about the Spring Wave AKA the CRM 2016 Update 1. Unlike Dynamics CRM 2015 Update 1, released at the same time last year, On-Premise customers can also take advantage of the latest update now by downloading Service Pack 1. Now it's worth pointing out that some features, such as Guided Help and Field Service Management, are not made available to On-Premise customers at this time. Nevertheless, I think it's a really positive step forward that On-Premise customers get most, if not all, of the latest updates as part of the Spring Wave, at the same time as Online customers. I've already talked previously about some of the great things to expect as part of the Spring Wave, so I would strongly recommend that organisations look at scheduling in their on-premise upgrade sooner rather than later. The main reason is the simplicity involved behind the actual upgrade process, which is the focus for this week's blog post:
How to Download Service Pack 1
If you have enrolled your Dynamics CRM installation into Windows Update, then currently SP1 does not appear when your run Check for Updates on your CRM Server (this will change starting from Q3, according this knowledgebase article). Therefore, you will need to download the update manually via the following link:
https://www.microsoft.com/en-us/download/details.aspx?id=52662
There are a number of install files available as part of the update. On first glance, it can be difficult to determine which update file relates to which component of your CRM installation, so I have provided a summary of this below:
CRM2016-Client-KB3154952-ENU-Amd64.exe - Outlook Client (64 Bit)
CRM2016-Client-KB3154952-ENU-I386.exe - Outlook Client (32 Bit)
CRM2016-Mui-KB3154952-ENU-Amd64.exe - Outlook Client (64 Bit) Language Pack - English
CRM2016-Mui-KB3154952-ENU-I386.exe - Outlook Client (32 Bit) Language Pack - English
CRM2016-Router-KB3154952-ENU-Amd64.exe -  Email Router (64 Bit)
CRM2016-Router-KB3154952-ENU-I386.exe - Email Router (32 Bit)
CRM2016-Server-KB3154952-ENU-Amd64.exe - Server Update
CRM2016-Srs-KB3154952-ENU-Amd64.exe - Reporting Extensions
There is also a final file - CRM2016-Tools-KB3154952-ENU-amd64.exe - which I believe may be some kind of utility to perform database upgrades. I have been unable to get this working successfully on my end and, from the looks it, the server update performs the database upgrade as part of the update. If anyone knows what this is for and how it works, let me know in the comments below.
Installing the Update
The update is really simple - this is backed up by the fact that it can be completed in as little as 6 button presses!
After running the self-extracting installer, you will be greeted with the first screen of the setup process: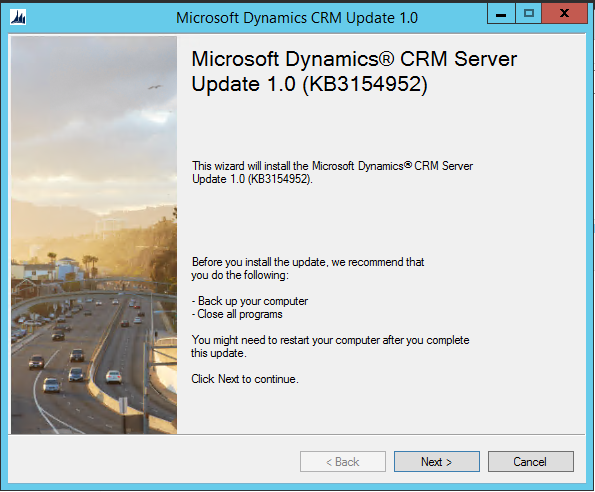 As is always the case, accept the license agreement: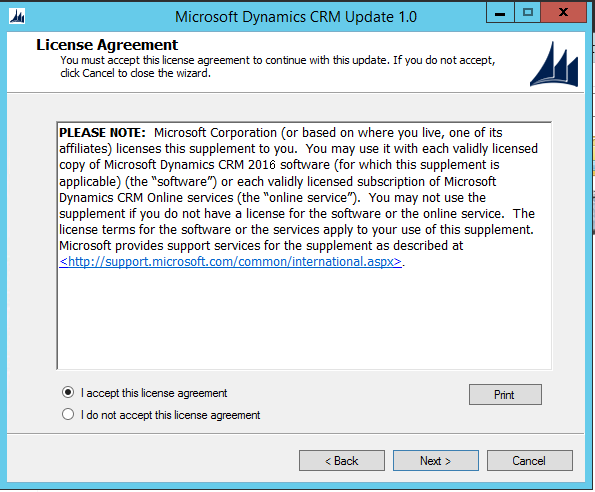 Then, confirm that you are ready to begin the installation: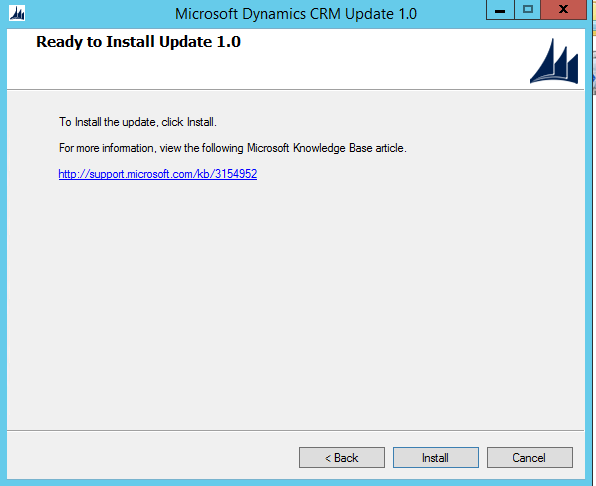 The installation process shouldn't take long (about 10 -15 minutes when I performed it). Once complete, you'll then be able to view the installation log file and specify whether or not you want to restart the server immediately: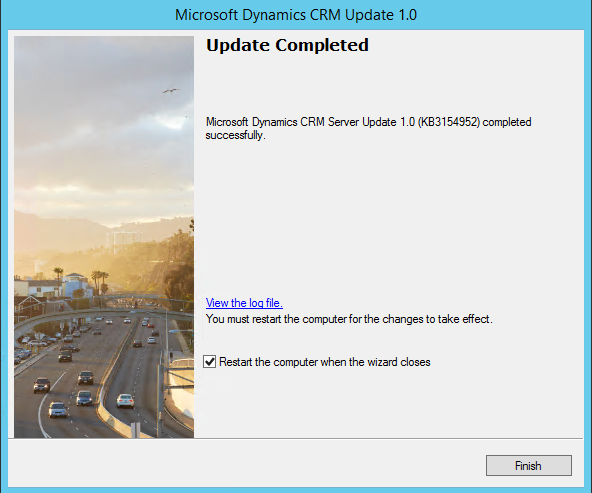 As part of the update, your organisations and databases will be automatically updated to the latest version. So, no need to manually perform this yourself after the update.
Reporting Extensions Update
The only thing to point out with this is that this will need to be installed on the same machine as your CRM's SSRS instance. Depending on your On-Premise deployment, your SSRS instance may be installed on a different server. The actual process of installing the update is identical to the above. Fortunately, however, a server reboot is not required 🙂
Outlook Client Update
Updating the Outlook client is also very similar and straightforward. Any existing connections will still work after the update. You will also need to install the update(s) for any currently installed language pack(s) immediately after this update is complete. In most cases, this will just be the one update for your CRM organization's base language. Depending on the size and complexity of your CRM deployment, you may need to plan carefully to ensure a successful roll-out; you may be happy to note that the existing CRM client should still work with a 8.1 CRM instance, so you can always choose to defer this part of the update entirely.
The Testing Conundrum
As with any application update, it is always prudent to ensure that you have performed some kind of testing. This can be invaluable in identifying issues that can then be resolved in good time, without causing disruption to colleagues/end-users of the application.
The difficulty in this particular case is that the update appears to automatically update all organizations on a CRM instance in one fell swoop. So you cannot, for example, setup a copy of your primary CRM instance that you can perform a test upgrade on. You would therefore have to deploy an entirely separate CRM instance which you can perform the necessary testing on. You can use a trial key to cover the initial licensing hurdle, but you will still need to allocate hardware and put time aside to get your temporary testing environment setup.
Given that this release is not a "major" release of the application, I would argue softly that you can probably throw caution to the wind and perform the update with a minimal amount of testing, particularly if your CRM instance has not been significantly customised/extended. There does not appear to be anything majorly changed under the hood of CRM for this release that could cause problems (unlike the 2015 Spring Wave release for CRM Online). In order to best inform your decision on this, you should consider the following factors:
Are you able to schedule your CRM update over a weekend or extended out of hours slot, and have resources in place to perform any post-update testing? If the answer is yes, then you may be able to get away with not performing any pre-update testing.
What is the maximum amount of time your CRM instance can be taken down for during normal working hours?
Does your CRM utilise the Email Router, CRM for Outlook and/or multiple language packs? If yes, then performing upgrade testing of these components may be beneficial.
Does your business have a spare Windows Server instance that can be used for a test upgrade, without incurring additional cost to the business? If yes, then a major impediment has been eliminated, meaning that you should look at performing a test update.
Has anyone performed an On-Premise upgrade to SP1 yet? Let me know your experience and comments below!