Earlier this year, the Business Applications team at Microsoft published a blog post titled Modernizing the way we update Dynamics 365, a significant article that anyone involved with Dynamics 365 Customer Engagement (D365CE) should take time to read through carefully. Indeed, as a direct consequence of the announcements contained in this post, you may now be receiving emails similar to the below if you are an administrator of a D365CE instance: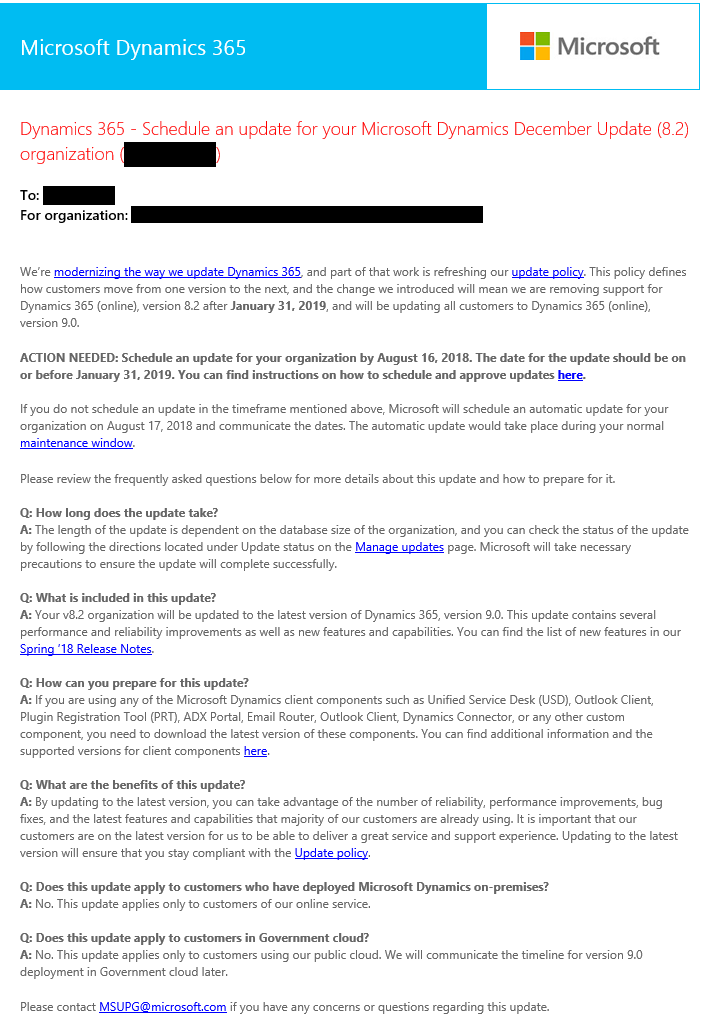 Changes to well-established processes always can produce a mixture of questions, confusion and, in some cases, frustration for IT teams. Once you have fully understood the broader context of where D365CE is going and also the general sea change that has been occurring since Satya Nadella came to the helm of Microsoft, the modifications to the Update Policy are welcome and, arguably, necessary to ensure that D365CE users and administrators can take advantage of the different features available within a D365CE subscription today. For those who are still scratching their head at all of this, what follows is a summary of the most significant changes announced, along with some additional observations from me on why it is important to embrace all these changes wholeheartedly.
Version 9 or Bust
Longstanding D365CE online customers will be used to the regular update cycles and the ability to defer significant application updates for a period. While this can be prudent for more complex deployments, it does potentially lead to additional overhead in the long term, mainly if Microsoft were ever to force this decision upon you. The well-established advice has always been to proactively manage your updates at your own pace, ideally targeting at least one major update a year. If you haven't been doing this, then you may now be in for a particularly nasty shock. As mentioned in the article:
Since every customer will be updated on the continuous delivery schedule, your organization needs to update to the latest version if you are running an older version of Dynamics 365…For customers who are currently running older versions of Dynamics 365, we will continue to provide you with the ability to schedule an update to the latest version and want to make sure this effort is as seamless as possible through continuous improvements in our update engine…For Dynamics 365 (online) customer engagement applications, we sent update communications in May to all customers running v8.1 and have scheduled updates. Customers running v8.2 should plan to update to the latest version by January 31, 2019.
This point is reinforced in a much more explicit manner in the email above:
ACTION NEEDED: Schedule an update for your organization by August 16, 2018. The date for the update should be on or before January 31, 2019. You can find instructions on how to schedule and approve updates here.

If you do not schedule an update in the timeframe mentioned above, Microsoft will schedule an automatic update for your organization on August 17, 2018 and communicate the dates. The automatic update would take place during your normal maintenance window.
The implications should be clear, and it certainly seems that, in this scenario, Microsoft has decided to eliminate any degree of upgrade flexibility for its customers.
No Changes to Minor/Major Updates?
Again, if you are familiar with how D365CE Online operates, there are two flavours of updates:
Minor updates, to address bugs, performance and stability issues, are continually pushed out "behind the scenes". You have no control over when and how these are applied, but they will always be carried out outside your regions regular business hours. The Office 365 Administrator Portal is your go-to place to view any past or upcoming minor updates.
Major updates generally referred to as Spring Wave or Fall Update releases. There has always been two of these each year, and administrators can choose when to apply these to a D365CE instance. These updates can generally take much longer to complete but will introduce significant new features.
Microsoft's new Update Policy seems to leave this convention intact, with a noteworthy change highlighted below in bold:
We are transforming how we do service updates for Dynamics 365 (online). We will deliver two major releases per year – April and October – offering new capabilities and functionality. These updates will be backward compatible so your apps and customizations will continue to work post update. New features with major, disruptive changes to the user experience are off by default. This means administrators will be able to first test before enabling these features for their organization.

In addition to the two major updates, we will continue to deploy regular performance and reliability improvement updates throughout the year. We are phasing deployments over several weeks following safe deployment practices and monitoring updates closely for any issues.
Some additional detail around this will be welcome to determine its effectiveness, but I can imagine some parity with the Experimental Features area in PowerApps, which - contrary to the above - will often introduce new features that are left on by default. A derived version of this feature would, I think, work in practice and hopefully streamline the process of testing new functionality without necessarily introducing it unintended into Production environments.
On-Premise Implications
One question that all of this may raise is around the on-premise version of the application, in particular for those who consume online subscriptions, but use their dual-usage rights to create an on-premise instance instead. This situation becomes more pressing when you consider the following excerpt from the refreshed Update Policy:
Dynamics 365 (Online) version 8.2 will be fully supported until January 31, 2019. Customers running version 8.2 should plan to update to the latest version prior to this date.
Now, the important thing to stress is the fact that the above quotation makes explicit reference to Online as opposed to on-premise. Also, when we check Microsoft's product lifecycle page, you can see that Mainstream support for this product ends in January 2021. On-premise administrators can, I would suggest, breath a sigh of relief for now, but I would urge you to contact Microsoft to clarify your support arrangements. I think as an organisation as well, you should also start seriously asking yourself the following questions:
Is an online, Software as a Service (SaaS) version of the application going to be easier to maintain compared with dedicated server environment(s)?
Is it possible to achieve all of your required functionality and business requirements using the Online version of the application?
Do you want to ensure you have the latest features exposed to you and can take advantage of Online-only functionality, such as Export to Excel Online?
If the answer to all of the above questions is "Yes", then a migration to the Online version of the application would be my recommended course of action, as it wouldn't surprise me if Microsoft were to stop releasing new versions/service packs for the on-premise version of the product or eliminate it by providing inexpensive sandbox instance options.
Recommended Next Steps
The fundamental aim of this move is a housekeeping exercise for Microsoft. The announcement earlier this year of version 2 of the Common Data Service - which is utilising the existing D365CE SQL database for all customisations - is the key driver behind a lot of the changes that are happing in the CRM/D365CE space today. The focus for the product team at Microsoft currently appears to be towards knitting together both experiences into the PowerApps interface. What this means in practice is that the traditional customisation experience is going to slowly fade away, to be replaced by Model-Driven App development instead. This refresh is excellent for several reasons - it provides a much-needed interface update, while also exposing additional functionality to us when creating business applications - but it is evident that such a massive change will require a consistent playing field for all of Microsoft's existing version 8.2 and below D365CE customers. Getting everyone onto version 9 of the application is the apparent result towards rolling out version 2 of the Common Data Service for all existing customers while ensuring that D365CE can fit into the mould of other application release cycles across Microsoft today. Embracing the change should not be a difficult thing to do and, when you understand the broader context, there is no other option available on the table.
So what are the key takeaways from this that you should be thinking about in the weeks and months ahead? My suggested list would include the following:
Schedule your update to version 9 of the application manually well in advance of August 16th 2018. DO NOT put yourself in a position where you are having an update forced upon you and give yourself the amount of time needed to successfully plan and test your upgrade in good time before January 31st 2019. I would also anticipate upgrade slots may start to fill up fast if you want to wait until as late as possible too 🙂
Start considering your future strategy in regards to the on-premise version of the application, if you are still supporting these environments. I speak with literally zero authority here, but I would not be surprised if the on-premise version of the application receives no further update at all in future or that dual-usage rights get revoked entirely.
Get familiar with the Common Data Service and Power Apps, as this is increasingly going to be the go-to area D365CE development and administration in the future. If you get the opportunity to attend one of Microsoft's PowerApp in Day course, then be sure to go along without any hesitation. I would also be happy to speak to and help anyone with training in this area.
As with anything in life, embrace change, be proactive and identify areas of opportunity from this. A good one from my perspective is the potential to more easily introduce the staggering array of differing Business Application functionality, with the outcome being the ability to quickly deploy bespoke business applications that achieve any possible requirement and integrate with a wide variety of different services or datasets.