A slightly shorter blog post this week, as I have spent the majority of the weekend upgrading our CRM Online instance to 2016 🙂 Due to the size of our current deployment and, because some of the new features such as Word Templates and Solution Patches will help make a real difference for our end-users/CRM Administrators, we decided to take the plunge early on. As with any upgrade, these can be potentially fraught with many risks for larger deployments, so I very quickly caveat that you should ensure that your business & CRM team are ready to make the jump and that you have put a solid plan in place in order to ensure the upgrade proceeds smoothly.
Microsoft have already published detailed articles that go through the upgrade process in detail, so today's post is going to provide a more practical description of what to expect, both during and after the deployment.
E-mail Notifications
As the TechNet article above states:
You'll receive reminders 90, 30, 15, and 7 days before the update begins
These will be sent to all CRM Administrators for your instance from the e-mail address [email protected], so make sure you check your spam filter settings. The e-mail will look something like this: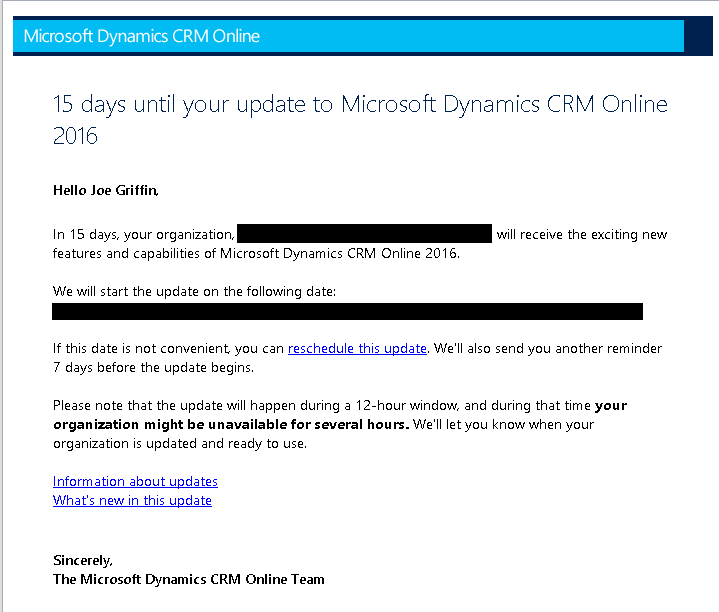 What happens when the upgrade starts
You'll get no e-mail notification at the exact moment when the upgrade starts, so you will need to ensure that your users have logged off your CRM instance at least 10-15 minutes before the upgrade states, just to be on the safe side. One observation on this point is that there is no (easy) way for CRM Online Administrators to ensure that all of their logged in users have left the application. I am really hoping that they make Administration Mode available to Production instances in the near future, as this will help greatly for scenarios like this or if you are, for example, planning on doing a Solution update during a specific time period.
If you attempt to login into your CRM instance, you'll be greeted with a screen similar to the below: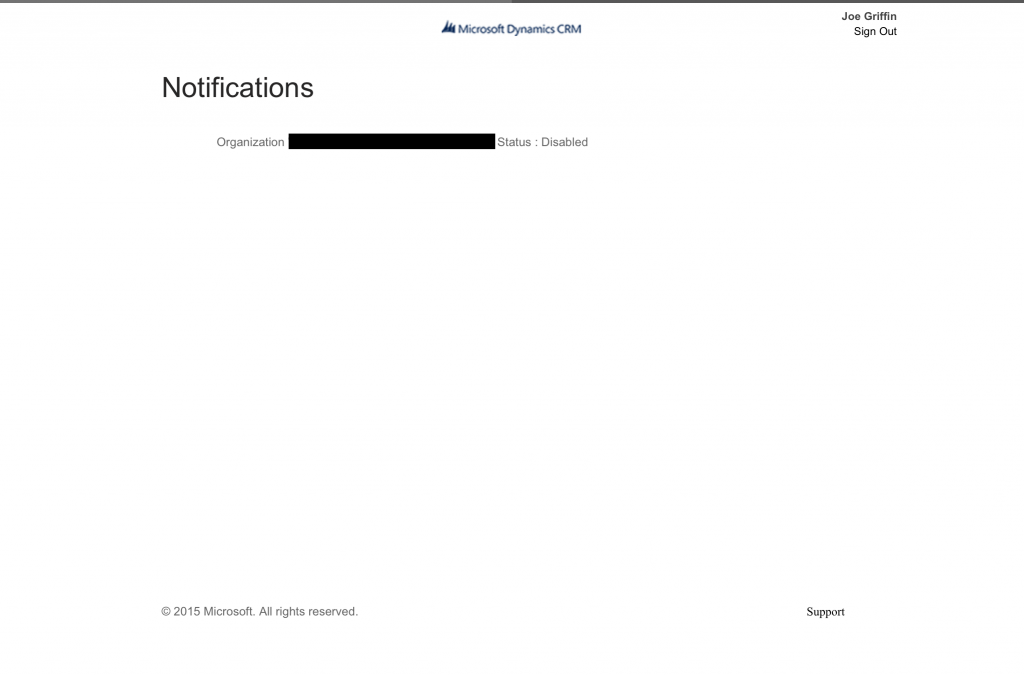 Whilst the upgrade was being carried out, I noticed that the Status moved from "Disabled" to "Pending" during the upgrade process. You can therefore refresh the page in order to gain a brief indicator of how the upgrade is going.
How Long the Upgrade Takes
In our case, it took a little over an hour for the upgrade to complete, which was great! In this instance, we were upgrading from CRM 2015 Update 1, so I assume this had a factor in ensuring the upgrade completed so quickly. I would assume that, if the update process is similar to how you would upgrade On-Premise CRM 2013 to CRM 2016, (as an example) then each version update is applied in sequential order (CRM 2013 -> CRM 2015 -> CRM 2016), therefore adding to the amount of time it takes to finish the upgrade
As soon as the upgrade is finished, all CRM Administrators will get the following e-mail: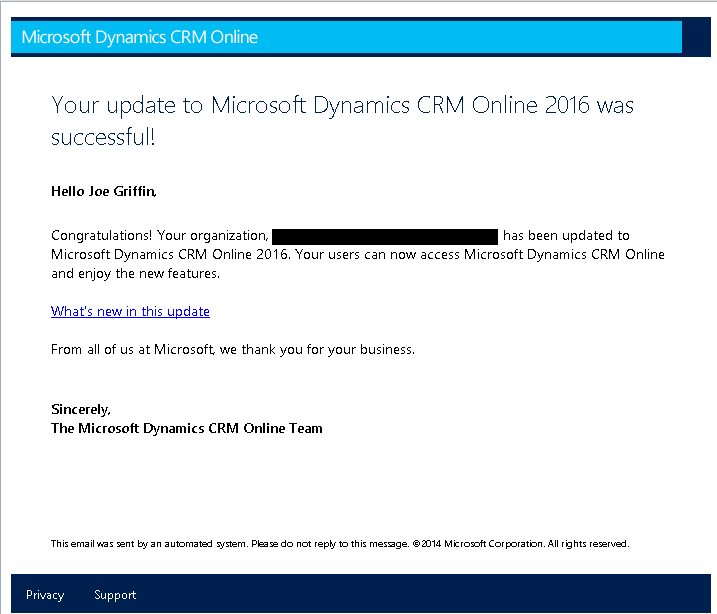 What to Expect after the upgrade
Again, this section is going to be more specific to scenarios where you are upgrading from CRM 2015 Update 1, though I would be interesting in finding out if these behaviours differ in any other upgrade scenario:
This is perhaps more applicable before the upgrade even begins, but if you are making the jump from a much earlier version of CRM, then you may encounter serious problems with any form level JScript. CRM has made some quite fundamental changes in recent versions in regards to the supported methods that should be used. Your CRM Administrators/Developers should have read and fully understood the What's New for developers guide and, as part of any upgrade plan, some kind of test upgrade in a Sandbox/Trial CRM instance needs to be completed. This should be pretty obvious, but doing this ensures that you can identify and fix these kind of issues long before the upgrade begins.
This is a strange one, but the upgrade reverted back our CRM Theme to the system default one. Fixing this is literally just a case of re-publishing your desired Theme from Customizations, but it is rather curious that this even happens in the first place.
All Personal/System Settings remain as they were before the upgrade
Any Waiting or in progress workflows will remain processing in the background
If your organization is using the CRM for Client to Outlook, then you may be pleased to hear that the 2015 Client is compatible and works successfully with CRM 2016. Following the upgrade, when your users first open Outlook again, they will be greeted with the following screen: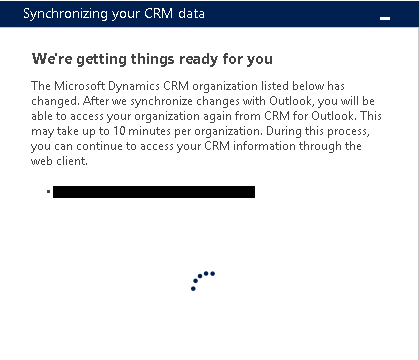 Once this has completed, CRM for Outlook will then operate as normal.
In our upgrade however, we did encounter a few cases where this did not always work. For example, the pop-up box above did not appear at all and whenever we tried to navigate to an Entity list in Outlook, Outlook would hang like so: I suspect though that the problems in our case were down to something to do with our organisations infrastructure, as opposed to solely the CRM Upgrade itself. We managed to resolve the above by simply re-creating the connection to the CRM Organization. After that, everything worked perfectly 🙂 I would recommend that you look at upgrading to the Client eventually though (like we are), as it is my understanding that it includes a number of performance tweaks.
Final Thoughts
I am really looking forward to working with CRM 2016 more closely in the weeks and months ahead. The release feels very familiar, but also comes packed with a number of small, but significant, improvements or new features. These are specifically designed to give end users more flexibility in how they use CRM, and in helping make CRM Administrators/Developers lives easier.
Is anyone else planning on or have already upgraded to CRM 2016? Let me know in the comments below.