It was a very nice post-bank holiday treat in the UK to be treated to news on Tuesday morning that the CRM 2016 Spring Wave has now been released, and can now be accessed as part of a Sandbox Reset or a new CRM Online Trial. 😀 Microsoft will be targeting organisation updates on Office 365 tenants starting from the 1st week of June, and it's a better time then ever to upgrade to CRM 2016 if you are still using 2013/2015 within your Online environment.
So what can we look forward to as part of the new release? I have taken a look at what's new (both obvious and under the hood), and have highlighted the 5 new features that I am most looking forward to as part of the new release:
Characteristics
I've been getting myself more and more familiar with the service side of CRM (partly for exam preparation, and also because the new interactive service hub looks really cool!) and I have been impressed with the breadth of options that are available within CRM for service management, scheduling and resource management. One thing that is lacking though is some easy method of recording detailed information regarding a particular resource. For example, if you have a Network Engineer that you need to schedule out for a site visit and you need to ensure that he has a particular certification or qualification in order to complete the job, there is no (easy) way to record this against the resource in CRM.
I am therefore pleased to see that new entities called Characteristics & Bookable Resource Characteristics have been added as part of this CRM release, with the following descriptions:
Characteristic - Represents the skills, education, and certifications of resources.

Bookable Resource Characteristic - Associates resources with their characteristics and specifies the proficiency level of a resource for that characteristic.
The entity has fields that records a Characteristic Type and Rating Value, which would seem to be perfect for scenarios similar to the example provided above.
Unfortunately, after digging around in a trial version of the Spring Wave update, I cannot seem to find any obvious means of accessing these entities via the user interface. I assumed that you would be able to add this information from the User form, but no dice. Perhaps this entity has been added in preparation for the next big release of CRM, but there is nothing (in theory) stopping system customisers from exposing this entity manually themselves and start using it. If anyone else manages to find this within CRM, please let me know in the comments below!
Email Signatures
Buried within the What's New announcement page for the release, is the following small, but potentially significant, new feature announcement:
Save time on your email correspondence and add a professional touch by adding an email signature. Use a default signature for everyday replies and new email messages, and then create other signatures for those special cases. You can also assign a default signature to a queue. When you change the From field from a user to a queue, the default signature changes automatically.
This has been one of my major headaches in attempting maintain consistent email signatures between our Outlook and CRM clients. The problem is compounded somewhat by the fact that the Email Template functionality does not offer a HTML editor. You therefore have to go through a number of different hoops in order to replicate this within CRM, and even then it doesn't look 100% perfect when compared to our Outlook signatures. If there is therefore a better way of managing this in CRM moving forward, then I am very interested in finding out more.
One problem I've noticed straight away though - similar to Characteristics, there doesn't appear to be any way to access this through the CRM interface! There is a new entity in the system called Email Signature though, which can be accessed via Advanced Find, but looks as if its not something that can be used yet. A real shame, as I was looking forward to seeing this in action.
Guided Help
Eagle eyed CRM users will immediately spot, when first logging into the new CRM update, that the help button looks distinctly different on the top right corner of the screen:

The new release introduces the Guided Help feature, which aims to offer more detailed, context sensitive information for users who need help within CRM. Clicking the above button will pop open a sidebar on the left of the screen, that changes depending on where you within CRM: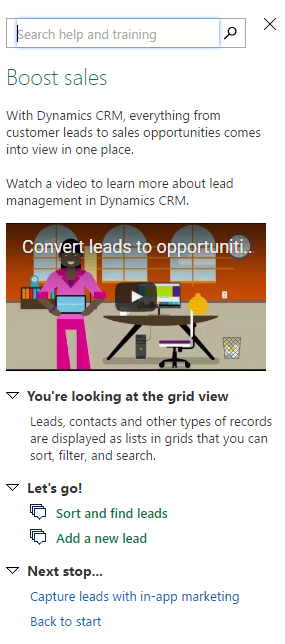 Then, by clicking one of the green links that are listed (again, these change depending on where you are within CRM), you will then be given a tour of how to complete a specific action, such as creating a Lead record: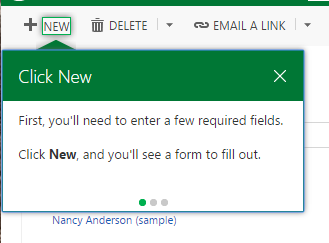 I am really excited to see how this feature develops over the time, and hope that eventually you have the option to create your own guided tours that can then be tailored specifically to individual CRM systems. This feature is also a great example of how Microsoft is leveraging some of the benefits and features of the Azure platform to deliver better services to their online customers.
Feedback
Within previous versions of CRM, there was no out of the box way of recording post-sale information in regards to Products that are setup on the system. I would say that pretty much all businesses are not just concerned with how well their products sell, but also want to drill-down further and get feedback directly from their customers on a Product that has been sold to them.
Now, in the Spring Wave release, the existing Feedback entity (previously used for Knowledgebase Articles) has been extended for use by other entities. To enable for your system/custom entities, all you need to do is tick the Feedback option within the Entity Definition page:

Just to advise you, once it has been enabled for an entity, it cannot be disabled. Once enabled, you can then access it from the entity record page: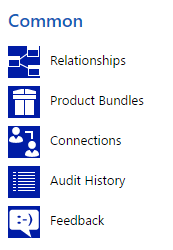 So now, system customisers can modify their CRM systems in order to enable Product feedback and feedback for any type of record. For example, you could configure Feedback for the Competitors entity as well, in order to allow sales users to capture feedback when speaking to potential customers about a supplier they are currently using.
CRM Portals
One of Microsoft's most high-profile acquisitions last year was ADX Studio, a company that provides customer portal solutions for CRM - the great benefit being that you don't need to be an ASP.NET whiz in order to setup highly functional, attractive portal systems that feed data into and out of CRM. Starting from the 2016 Spring Wave, Microsoft are starting to more tightly integrate the product with CRM, to the extent that portals will now be manageable from within CRM itself and integrated as part of the Office 365 subscription plans, effectively becoming an add-on product that can be purchased from the portal. Organisations who are considering to use ADX Studio may be advised to wait to see what happens with this, as it is likely that Microsoft may introduce price breaks on the product in order to entice CRM Online uses to try the product. In the meantime, trial ADXStudio account are still available on their website for those who are curious. I am hoping to start getting to grips with the product within the months ahead, so expect a blog post or two on the subject in future.
What are you most excited about as part of the Spring Wave release? Let me know in the comments below.