When I first took a look at some of the additions I was looking forward to as part of the CRM 2016 Spring Wave, I made reference to the new Email Signature feature. At the time, there did not appear to be any way of accessing this via the GUI interface within CRM; this is despite the fact there were, clearly, new system entities in the system corresponding to Email Signatures. There appears to have been some small update or change since my original post however, as it is now available within Online/On-Premise 8.1 CRM instances. 🙂 To take advantage of the new feature depends on what version of CRM you are running:
Once you've finished updating, you are good to go. To then setup an Email Signature for your user account, you will need to do the following:
 Navigate to the Email Signature window within CRM. This can be accessed in either 1 of 2 ways:

The first is via the Set Personal Options screen, on the Email Signatures tab:

The second is via the Sitemap Area, in Settings -> Templates -> Email Signatures:

Regardless of how you have got there, press the New button to open the New Email Signature window: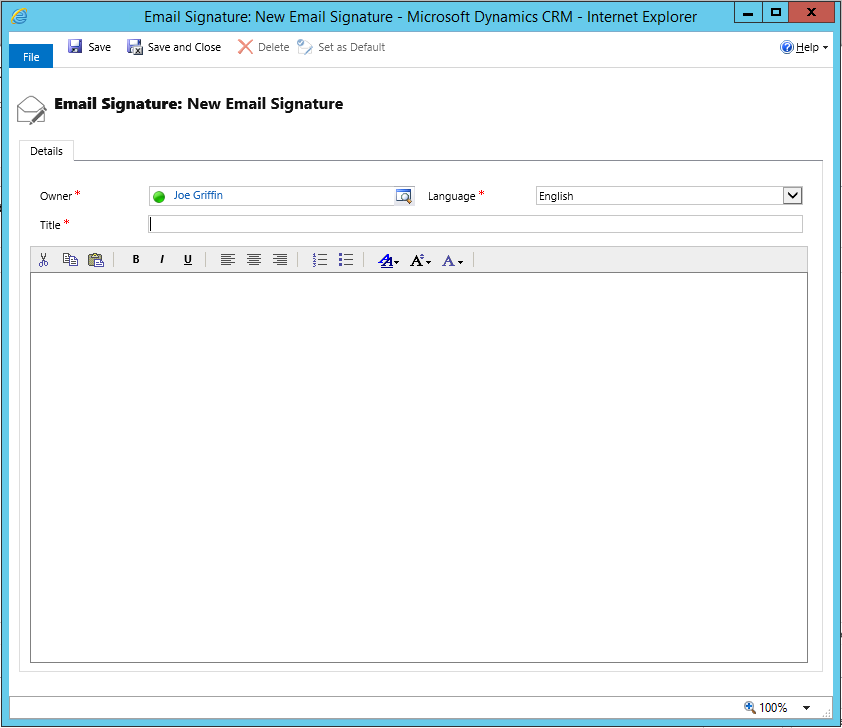 Give your signature a name and then populate the text area with your desired signature. You can make use of the rich text formatting in order to style your signature. Or, alternatively, you can copy & paste your signature from another application (Word, Outlook etc.):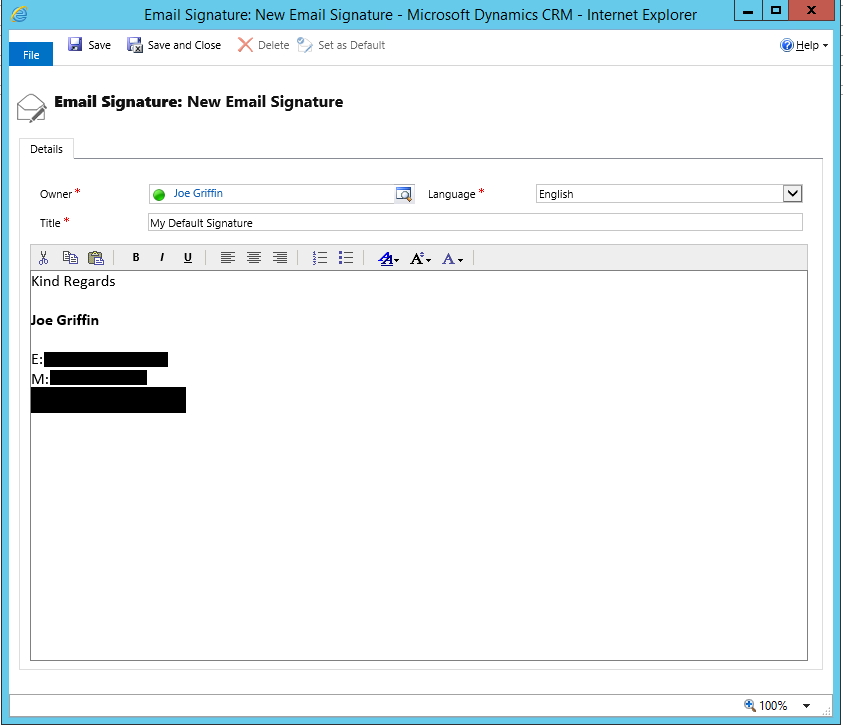 Once you are happy with your signature, press Save. At this point, the signature will now be available whenever you create a new email record. However, in order to make the signature appear automatically whenever you draft a new email, you will need to press the Set as Default button:

If you need to revert this at any point, then you can use the Remove Default button, which replaces the above button:

Press Save and Close to finish setting up your signature. It will now be visible within the Email Signature subgrid view: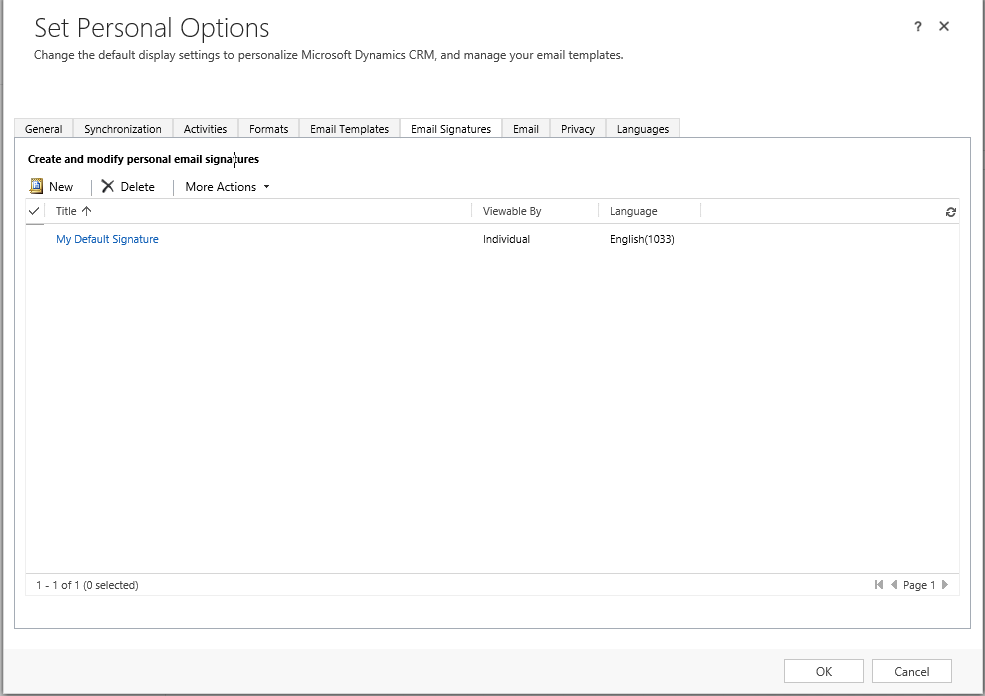 Now, when you navigate to create a new Email record, your newly created signature will be visible on the email: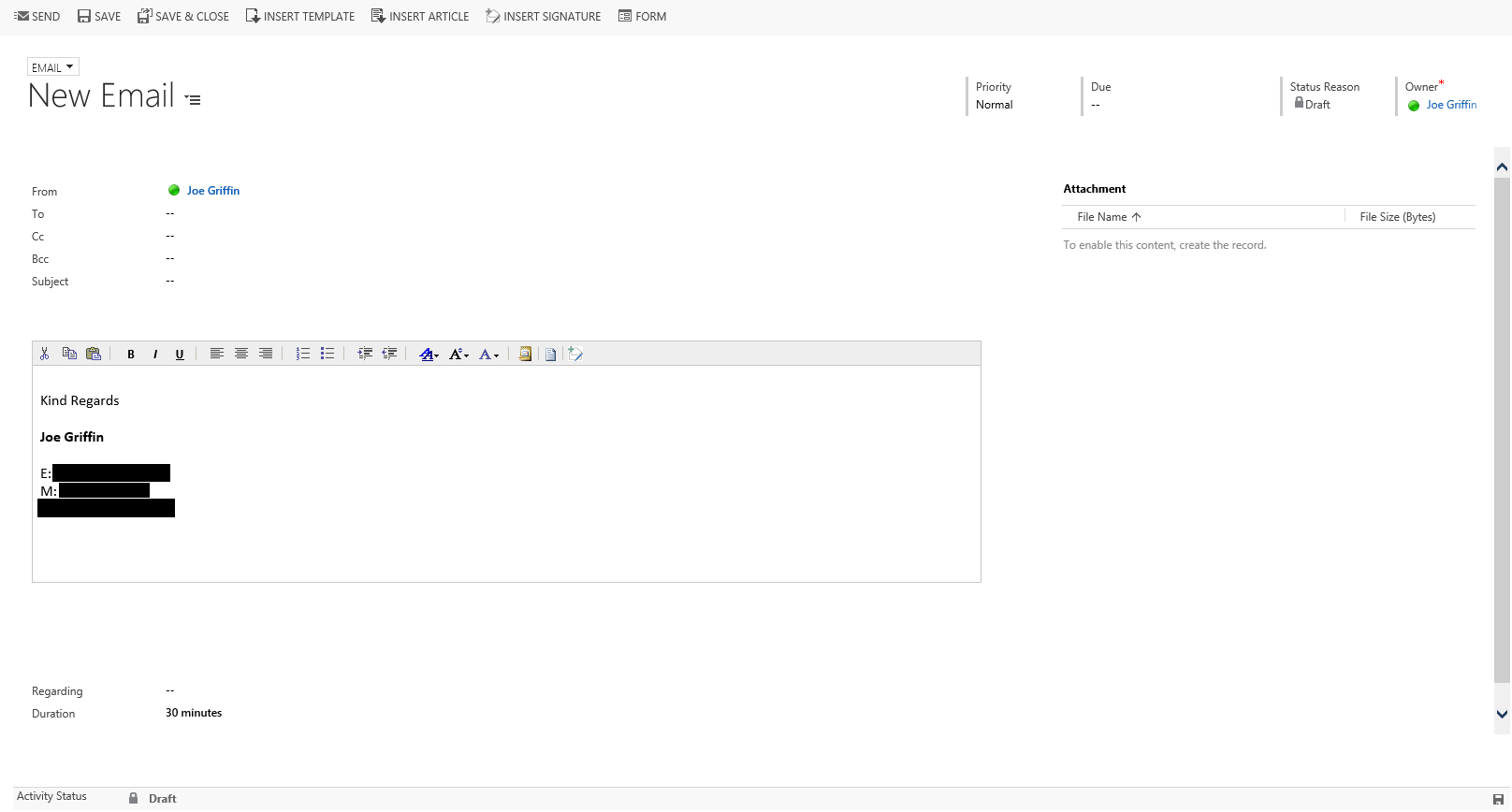 If, for whatever reason, you need to select a different Email Signature, then press the Insert Signature button, which will then prompt you to select a new Email Signature to use: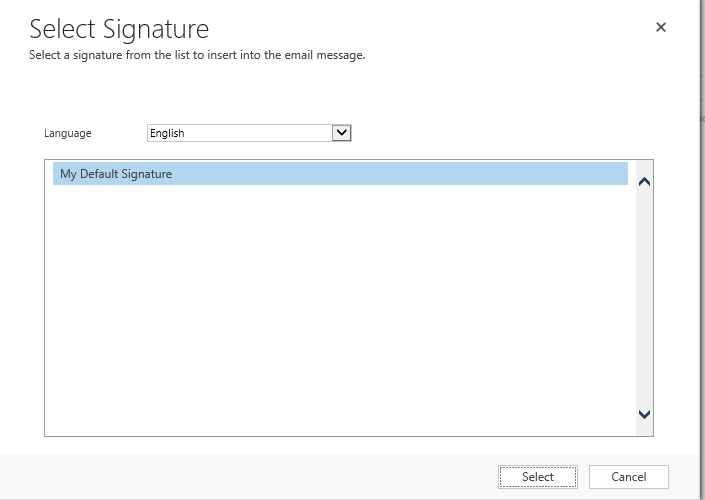 I am really glad that this feature has finally been added to CRM, however…
There appear to be three glaring issues, that really need to be addressed in order to make Email Signatures work better:
Email Signatures are only configurable on a per-user basis. What that translates to is that if one user creates an email signature and sets it as their default, another user can log in and see this, but cannot apply it to themselves or set it as their default; if the second user wanted an email signature, they would need to create one manually. The implications for this should be fairly obvious, and I find it somewhat confusing that there is not way to setup a common template that can be then be applied and customised individually for each user on CRM.
There is no option, unlike Email Templates, to insert dynamic Data Field Values. So you cannot, for example, populate an e-mail signature based on information from the Job Title field on the currently logged in User account. This makes the feature impractical as a central Email Signature management tool; instead, you would have to go through the potentially rather tedious task of setting up Email Signatures for every user account on a system. Not so bad if you have a dozen or so users on your CRM instance, but if you have hundreds of users…you get the point.
Whilst recently studying for the CRM 2016 Service exam, I was really impressed to see that the Knowledge Article feature had been given a face lift in line with the new Interactive Service Dashboard. In particular, the text editing functionality has been improved significantly, with a range of new text editing options - many of which are not included as part of creating an Email Signature. Below is an image highlighting each of the new text editing features not available on Email Signatures, but available as part of the enhanced Knowledge Article functionality:

As you can see, there are a number options as part of the above which would be incredibly useful from a Email Signature creation point of view - Insert Image, Font Colour and View Source (perhaps the most crucial, if your organisation uses HTML signatures). I wonder why, therefore, the new Email Signature feature was not modeled in the same vein as the above.
Conclusions
Previously, in an attempt to replicate email signature functionality, the recommended approach was to setup an Email Template. This is beneficial when it comes to larger CRM deployments, as the dynamic data fields functionality can be utilised when creating a common template. The introduction of the new Email Signature functionality does not, in my view, mean there should be a change to this approach. I think if your CRM deployment contains a small amount of users and you have a very simplistic, existing email signature, then you can perhaps get away with using this new feature without causing yourself too many problems. Until the above issues are addressed however, I would not recommend migrating away from what you are using currently to provide email signature functionality within your CRM. This is a real shame, as I was hoping the introduction of this feature would resolve some of the headaches that I have encountered previously working with complex email signatures in CRM. Fingers cross we see Email Signatures get a bit more love and attention as part of the next major release of CRM.